Our Milestones
Empowering nonprofits since 2012
We were created by fundraisers who dreamt of making fundraising easier and better for everyone. We have come a long way since 2012, and have our clients and incredible community to thank. Here's the story of our journey.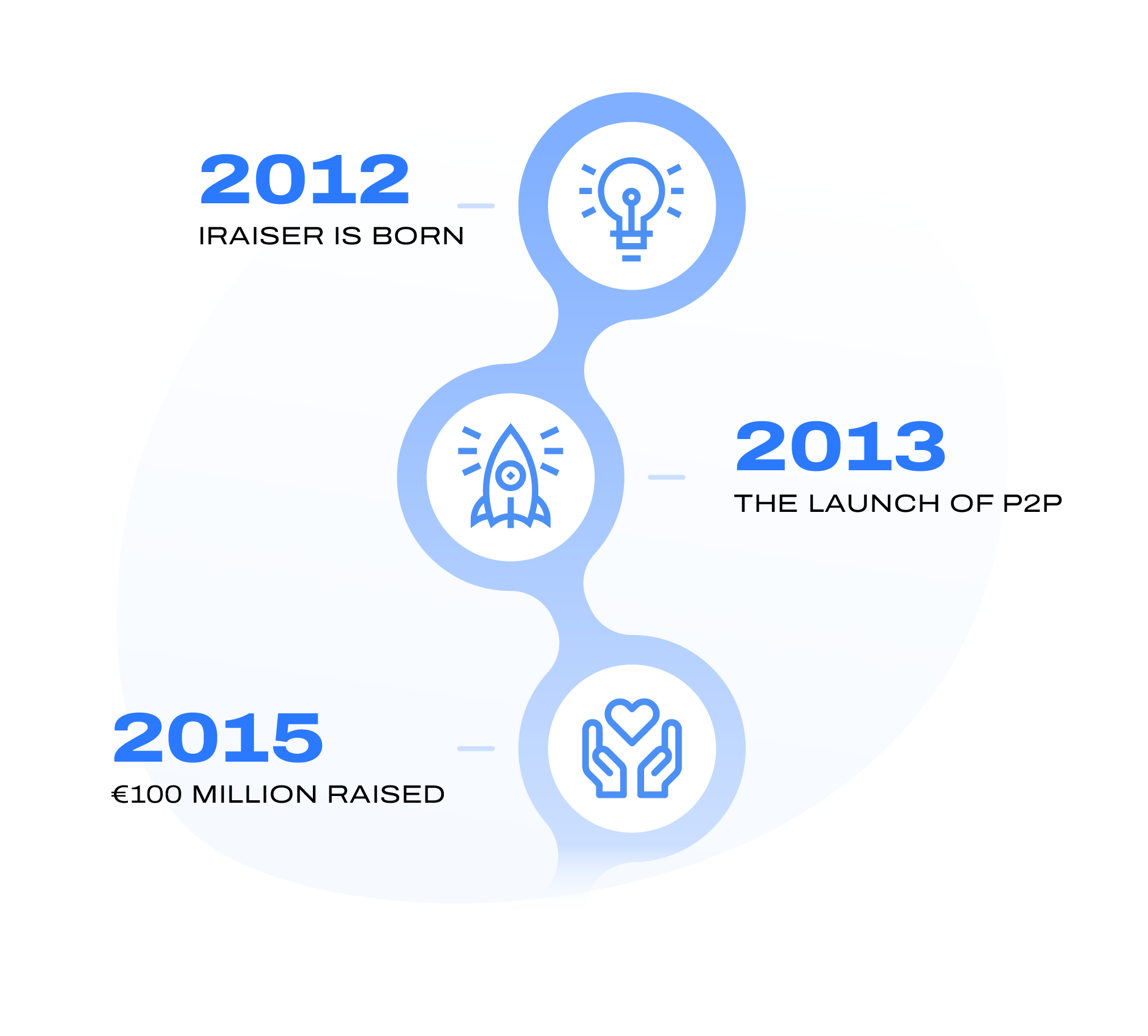 2012 - IRAISER IS BORN

iRaiser is founded in France, where we launch our first Online Donation Forms for not-for-profits. Twenty charities decided to join the adventure at the time, and trust us with their fundraising.

2013 - THE LAUNCH OF P2P

Our team grows to 5 full-time employees! We expand our product offering and introduce the Peer-to-Peer fundraising solution. Given the increase in clients and demand, we reinforce our support team to continue to offer an excellent customer experience.

2015 - €100 MILLION RAISED

Charities raise 100 million euros on our platforms. The team grows to 10 full-time employees.

2016 - CIAO ITALIA

iRaiser expands into Italy!

We reach 210 million euros raised for charities on our fundraising solutions, and 2 million transactions processed on our platform.

2017 - IRAISER EMPOWERS HUNDREDS OF CHARITIES

iRaiser helps hundreds of charities all over Europe raise more than 420 million euros with our solutions, and we reach more than 4.8 million transactions processed!

We introduce the CRM solution for our clients in France and Benelux regions.

2018 - EXPANSION INTO NORDICS

iRaiser acquires Aidbuilder, the leading Peer-to-Peer software provider in the Nordics, expanding not only into Denmark, Finland, Norway, & Sweden, but also Belgium!

We reach 650 million euros collected for our clients across Europe, and the team grows into a group of 22 full-time employees.

2019 - IRAISER BECOMES THE EUROPEAN LEADER

With more than 900 million euros raised on our solutions, over 10 million transactions processed, and over 500 clients, we become the European leader in digital fundraising!

2021 - HELLO UK & IRELAND!

iRaiser expands into the UK and Ireland! Making us present in over 18 countries worldwide.

2022 - 🎂 IRAISER TURNS 10!

iRaiser celebrates 10 years of empowering world changers to raise more funds!

The iRaiser Group acquires Kentaa, leading fundraising software provider in the Netherlands, further establishing our presence in the market.

And now, with over 700 clients across Europe and the world, we raise over 1.8 billion euros for charities & their extraordinary causes.

The group grows to an international team of 78 full time employees!
Eager to join a company with meaning and values?
Check out what positions we have available, and you could have a chance to work with organisations that really make a difference in this world!